22" BMW X5 / X6 742M Wheels (G05 G06 Platform)
SET OF 4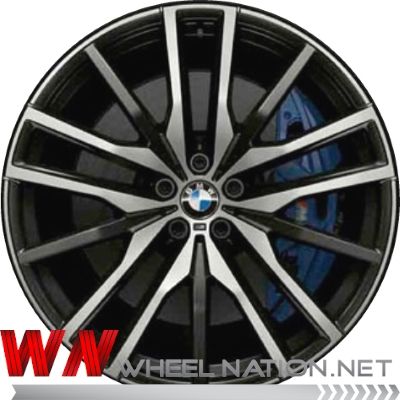 SET OF 4
Original Fitment: 22" BMW 742M Wheels from the 2019+ X5 and X6 G05 and G06 platform X Series
Additional Fitments: These are a direct fitment for a number of other vehicles. If you searched by Vehicle Make & Model and arrived here, this wheel is a guaranteed fitment.
Product: Set of 4 Original 22" BMW X5/X6 Alloy Wheel Rims
Individual Wheel Availability: Contact us for Pricing. If we have excess stock, we can offer wheels individually
Condition: As New scratch free with Warranty & 100% Money Back Guarantee
Style / Finish: 742M Jet Black with Burnished Face (Bright Turned/Diamond Cut)
Size: 22x9.5J Front & 22x10.5J Rear
Bolt Pattern: 5 x 112
Offset: Front 37mm & Rear 43mm
BMW Part Number: Front 36118090013 & Rear 36118090014
Warranty/Guarantee: Guaranteed Original, Guaranteed not Cracked Re-welded, Guaranteed Vibration Free in New Condition.