Extended Lug Nuts M14x1.5 Chrome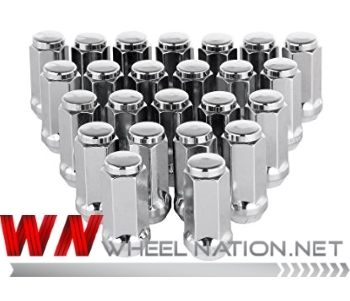 Product 1 x 14x1.5 Extended Conical Seating Wheel Nut Finished in Chrome.
Quantity: 1 Piece
Type: Bulge Acorn, Closed End
Seat Type: Conical (Acorn) 60 degree tapered
Nut Height: 1.4 inch or 36mm
Socket Hex Size: 19mm or 3/4"
Material: Steel (Heat Treated)
Finish: Glossy Chrome Finish
Thread Pitch: 14x1.5 or 14mmx1.5 or M14x1.5 Thread 1 New Chrome 14x1.5 Lug Nut. Some of the vehicles this wheel nut will fit includes the 2015+ Ford F150, Toyota Land Cruiser / Tundra, Chevrolet Silverado 1500 2500 3500, GMC Sierra Yukon, Hummer H2, Nissan Patrol Y62 etc,
Notes These Lug Nuts can fit any vehicle with studs that are the following thread pitch: 14x1.5 or 14mmx1.5 or M14x1.5 Thread Pitch. These Cone Seat nuts will only work with wheels that are manufactured with Cone Seat lug holes. These nuts do not have a cosmetic sleeve over the lug like some factory wheels use. Please ask us if you're unsure of which wheel nuts to order for your wheel and vehicle.